OnMobile launches Help Me on Mobile - A free mobile app targeted at personal safety
Bangalore, India – July 10, 2013: OnMobile Global Ltd., the leading provider of telecom value-added services (VAS), today launched Help Me on Mobile, a free 24x7 mobile application that will assist women, children, young adults and senior citizens in fighting crime and calling for help during emergencies. The free application houses a bank of two services 'I am here' and 'I need help', which are designed to ensure personal safety of an individual and is easily accessible from a single place. Help Me on Mobile aims to equip mobile consumers with a safety application on their phones without having to look for an external source. Users can get assistance in tracking location, sending panic alerts to chosen family and friends, trigger off panic alarms and more.
It is an attempt by OnMobile to equip mobile consumers with a safety product on their phones. With this launch, OnMobile aims at proactively impacting the life of the end consumer and giving back to society.
"We live in a society troubled with a constant fear of crime, medical emergencies and accidents. With personal safety assuming paramount importance, Help Me on Mobile has been conceptualized and designed to reassure users round the clock. The app offers essential safety features that can be used both in everyday life and emergency situations. Help Me on Mobile ensures the safety and peace of mind of your loved one and you at all times. We hope to have this app reside on every handset. It is our insurance for your safety", said Mr. Mouli Raman, OnMobile Co - Founder and CEO.
Help Me on Mobile especially caters to and ensures safety of individuals during medical emergencies, crime situations (eve-teasing, theft, rape, stalking, etc.) and accidents (road accidents, fire and other mishaps).
The 'I am Here' service lets family and friends of the user track his/her location while the 'I need Help' service raises an alarm in crisis situations and simultaneously sends alerts to family and friends. The most significant feature of Help Me on Mobile is that it is free, does not depend on capabilities like GPS; location maps etc., and can in the course of time be downloaded on lower end mobile phones as well. Help Me on Mobile is currently available for the Android platform and will, in time, be available on both Symbian and Java platforms. It has far better usability than its counterparts in terms of simplicity, easy access to the app via a widget and all actions get triggered off at the simple press of a button. As part of the application, the customer needs to select his/her set of Guardians (minimum of one and maximum of five), who will be notified when the subscriber sends location updates or panic alerts. The first Guardian is defined as the main Guardian who will receive a call in addition to an SMS.
"Help Me on Mobile is a dynamic move to reinvent our product strategy and align it closely with changing consumer needs. We would like to chart OnMobile's next growth phase by basing it on services that puts the consumer in the forefront and helps build a robust ecosystem," adds Mr. Mouli Raman.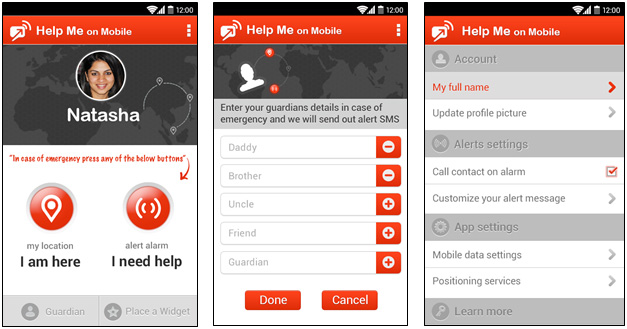 NOTES TO THE EDITOR
I am Here
To enable the subscriber's guardian to track his/her current location, the service can be turned on the phone. Frequent location updates are sent to the guardians. In case of receiving any panic alert via SMS from the user's number, they will be able to track the exact location. There is also an option to turn off the service through the 'I am here' icon on the Help Me on Mobile widget as well as the application.
I need Help
When an individual defines a closed user group (CUG), everyone in the group gets a series of education messages to know why they get panic messages and how they can react to save their friend in crisis situations. When the panic button is pressed an SMS is sent out to the selected CUG – "Help me. I am in danger". Once the user activates the alarm service, the device immediately sends out a Dramatic Alarm and periodically sends the user's update to them. To turn it off the button has to be pressed again.
For more information on Help Me on Mobile:
www.facebook.com/helpmeonmobile
About OnMobile
OnMobile [NSE India: ONMOBILE], headquartered in Bangalore, India, and with offices in all regions of the world, delivers millions of music plays daily to mobile customers worldwide. Based on current deployments, OnMobile has the potential to reach more than 1.1 billion mobile users across several geographies. For further information, please visit www.onmobile.com
For media queries, please contact: